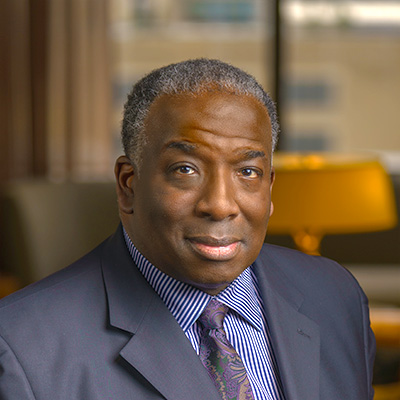 Thomas D. McElroy, II
Principal and CEO
HThomas McElroy, CEO of Level-1 Global Solutions, has led technology design and implementation for some of the city and nation's most significant systems and infrastructures including the U.S. Department of Homeland Security, TSA, Cook County Hospital, Chicago Public Schools, and United Airlines.  
Level-1 Global Solutions is a mission-critical technology systems integrator, internationally recognized for interoperable technology infrastructure design, implementation, and management. Under Thomas' leadership, this minority-owned business has enabled city, local, and federal government offices, healthcare, education, commercial real estate, and aviation clients to efficiently plan and execute future-proof, complex migrations and infrastructure upgrades. On a mission to support economic opportunity through technology, he is focused on bridging the gap between technology, architecture, and construction to help communities improve the quality of life for their citizens.  
In 2020, Mr. McElroy began his mission to educate architects, engineers, and developers on the importance of building hyperconnected Smart Cities. A Smart City uses information and communication technology to improve operational efficiency, share information with the public, and provide a better quality of government service and citizen welfare. Thomas believes that a well-planned Smart City infrastructure can harness cutting-edge technology and alternative power sources to make positive environmental impacts while passing cost savings along to the tenant. Level-1 provides tech-enabled solutions at scale that are innovative, equitable, inclusive, and resilient.  
Thomas has been recognized as an outstanding business leader by the Small Business Administration and the Chicago Urban League. He has served on the Mayor's Council of Technology Advisors; the American Society of Civil Engineers; TIA/EIA Professionals Network; the National Forum for Black Public Administrators; Young Democrats of America; Real Men Read/Chicago Public Schools; and Chicago Minority Supplier Development Council. He has participated on the advisory board of the Chicago Academy for Advanced Technology (CAAT), a Chicago Public School geared toward technology careers, and served on the planning committee for Invest South/West and the Amazon HQ site selection committee. He is a noted member of Chicago's philanthropic community and has served on the boards of the Chicago Central Area Committee (CCAC), a supporter of the Chicago Community Trust, the Chicago Sinfonietta, and the Ravinia Festival and Black Creativity Council at the Museum of Science and Industry. He has been a member of Clayco Connects since 2018 and is a graduate of Clark Construction's SPP and Turner Construction's Business and Construction Management Academies (both programs for minority-owned businesses).  He currently serves as a board member for World Business Chicago and Grant Park Music Festival. 
He is a lifelong Southside Chicagoan, having attended Avalon Park Elementary School, Kenwood Academy, Kennedy King College, and DePaul University.