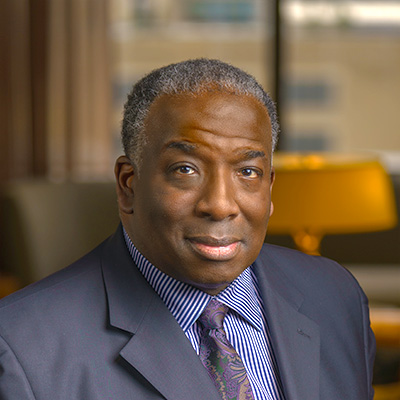 Thomas D. McElroy, II
Principal and CEO
Thomas D. McElroy II founded Level-1 Global Solutions, LLC, in the emotional and terrifying days that followed the September 11, 2001, terrorist attacks. His team of experienced IT professionals and engineers are entrusted to design and implement some of the city and nation's most significant foundational technology systems and infrastructures. From technology support for the 2013 NATO conference in Chicago, U.S. Department of Homeland Security, and mapping fiber infrastructure for the Amazon bid sites across the city, Level-1 builds and maintains mission-critical infrastructure systems across the public and private sectors.
Mr. McElroy is a native Chicagoan who grew up in the Kenwood/Hyde Park community and is committed to supporting economic opportunity across the city. He has over 25 years of experience as a senior management consultant in network and data communications and design, including network infrastructure, electrical, HVAC and power distribution systems, public safety and disaster recovery technology infrastructure, office technology infrastructure, and safety and surveillance.
Throughout his career, Mr. McElroy has led the design and implementation of technology infrastructure systems for airports and reservation centers; written specification for Y2K testing and network communications equipment; designed, configured and installed IP/IPX data communication networks; redesigned the worldwide reservations and travel agency networks; and diagnosed and made recommendations for critical electrical infrastructure upgrades.
In 2003, he completed the Turner Construction Company Business Management Academy Conscious Leadership Course at Kennedy-King College in Chicago, and in 2006, graduated from the Turner School of Construction Management Program. Mr. McElroy has been recognized as an outstanding business leader by the Small Business Administration and the Chicago Urban League. He is a member of the Mayor's Council of Technology Advisors; the American Society of Civil Engineers; Minorities in Technology Sales; the Druids of Chicago; TIA/EIA Professionals Network; the National Forum for Black Public Administrators; the Young Democrats of America; Real Men Read/Chicago Public Schools; the Chicago Minority Supplier Development Council; and Black Data Processing Associates. He also serves on the Technology Committee for the Black Ensemble Theater and the program and gala committees of Black Creativity, an organization that recognizes the accomplishments of African Americans in the sciences at Chicago's renowned Museum of Science and Industry.
In 2000, Mr. McElroy was recognized by the International Who's Who of Information Technology, and most recently was honored as one of the Chicago Defender's 2010 Men of Excellence. Mr. McElroy sits on the advisory board of the Chicago Academy for Advanced Technology (CAAT), a new Chicago Public School geared toward technology careers. He is a noted member of Chicago's philanthropic community and has served on the boards of the Chicago Central Area Committee (CCAC), Chicago Community Trust, the Chicago Sinfonietta and the Ravinia Festival.